You may recall these two tables that my husband Mr T found by the side of the road about six months ago...
They had been sitting in the garage for ages when Mr T had an idea for both of them. He thought PIANO KEYS! Ummm, I wasn't so sure so I let him do only one first as I thought it would look
crap
not that great.
Turns out the Mrs was wrong (for once). Check it out now!
Personally, I totally dig it!
The only problem was he was supposed to have the keys the other way round so they were facing the same was as the drawer. Still looks great though.
Oh ok I'll admit it, I didn't really think it would look crap. Maybe I was just worried about being upstaged! Haha, just kidding. I do love it when he gets in the creative mood.
What do you think?
Megs x
Linking up to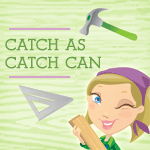 and many more! Check out my Link Party page.