A few months ago a good friend invited me to poke through her shed and help myself to a stack of old furniture her and her husband had been collecting from the side of the road. They, like myself, become saddened when seeing furniture left out to die like that.
Here's the before (minus the spiders that were cohabitating in there):
I had never been into the Union Jack thing much, but as soon as I saw this desk it was screaming at me for me to do it.
I took the insert out because.... well just because. I like the space inside.
I still have some minor touch ups to do before I list it for sale, but I think I will have to give that job to Mr T (in between dropping off and picking up kids, cooking, cleaning and everything else). I did this project before I became incapacitated with the dodgy knee. I have had an MRI, seen three specialists and I have been on crutches for six weeks. Now I have been referred to a pain management clinic in order for them to perform nerve tests. Here's what it looked like the other day:
Yeah it's the one on the left in case you haven't noticed. Although the other one has taken on so much it too has now become swollen and sore. I have sunk a few times into the depths of depression but keep talking myself out of it. I've had to get through the past few months relying on family, friends and doctors. Hopefully I'll have some answers soon.
In the meantime I've been finishing off my French memo boards and making some more doll furniture to sell in time for Christmas and this has been keeping me relatively sane. I'm hoping to have use of both legs by the end of the weekend as I've been only using the one crutch for the last few days. Fingers crossed. :)
Megs x
Linking up to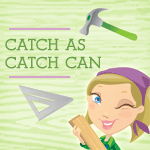 and many more. Check out my Link Parties page!